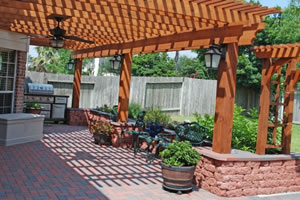 Install a patio surface that will bring out the best of your home. If you have taken time in building a beautiful outdoor patio, how about giving it a good finishing by laying even more attractive patio pavers. Join the people with beautiful homes who have had their patio surfaces done by us.  Paver designs are your best option for laying patio floor. We offer pavers that are durable, versatile and functional. With a personal touch, the pavers are customized to enhance the beauty of your patio.
Serving Houston, Cypress, Katy, Brookshire and Rosenberg areas, Paver designs are your best contractor for paver installation. We have a variety of pavers from flagstone to concrete pavers. Installing an attractive patio surface makes your outdoor living fun. You can call friends over and host them at your patio.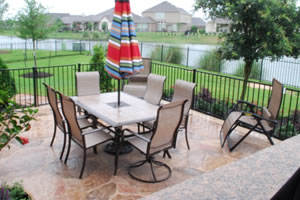 At paver designs, we offer different designs and ideas for laying your patio. With different textures and patterns, you cannot run out of ideas. We also have designs for patio stones for edging your paving so that it looks elegant. Having a good patio paving gives your patio a natural look.
To enhance your patio surface, consider flagstone which is a natural stone used to pave floors. They are attractive than the synthetic material used for laying patios. The patterns on the flagstone have a vintage look and elegance. Flagstone is also tough and does not wear off easily despite its exposure to different weather conditions. They also require very little maintenance.
We also provide pavers which are durable and versatile. These pavers are also installed as walls and borders. Pavers are preferable for outdoor patios since they are slip resistant and are safe during the wet season.  We install the pavers at a quarter inch ensuring that the water runs off so it doesn't wither the stones. Re-sealing your pavers regularly will give your floor a refreshing look and avoid discoloration. We match the color variations of the pavers according to their shade to enhance their natural beauty, otherwise, they would look patchy.
Paver design installs concrete floors for your patio. Concrete is durable and looks like natural stone. By spicing it up with home accents and incorporating some inlay designs. We also paint the concrete and make it look like carpeting.
Have your patio customized to your liking by Paver Design and transform your home. With a beautiful patio, you will be the perfect host.