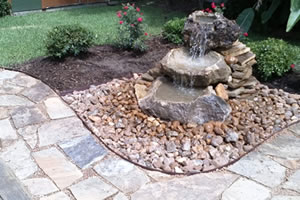 Your home's sidewalks are the paths for navigating around. Join your neighbors in who have had their walk way pavers installed by us. Paver Designs have installed sidewalk and walkway pavements. With great sidewalk ideas and designs, we have managed to be a favorite of home owners around Houston, Katy, Cypress, Sugarland, Rosenberg and Brookshire.
If you want to replace your sidewalk paving or install an all new one, then we are ready with attractive designs that you will be spoilt for choice. Available in different textures, patterns and colors, our paving stones are durable. They are made to withstand weather changes you do not have to replace them each season.
Among the many walkway designs available, concrete sidewalks are now available in designs too. You can also decorate your existing concrete walkway to look more attractive. The concrete industry has introduced designs that can bring to life your grey concrete pavement.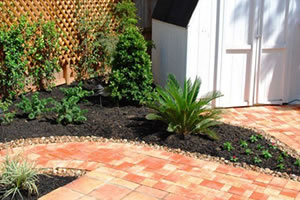 At Paver designs we listen to your need and advice you on the best designs and ideas for your sidewalk paving. We offer customized services that will leave the customer fully satisfied with our services. Give your home a makeover by installing sidewalk paving designs that stand out.
Paver Walkways / Flagstone Walkways
We change ordinary walkways and sidewalks into something inspiring and elegant.   Sidewalks and walkways are often the most over looked landscape and forgotten landscape feature.  They can compromise the investment and beauty of home landscaping.
Our designs and materials transform these forgotten landscapes features into useful beautiful sidewalks and walkways.   The most popular walkway surfaces are pavers and flagstone.   We install a great deal of both and each is different.
Learn more about each by visiting Pavers and Flagstone.
Our gallery has photos of both Paver Walkways and Flagstone Walkways.
The trend is favoring pavers because of color selection, durability, ease of maintenance, and cost.