When done the right way, your patio, walkway and retaining wall can last for years especially with the proper care and maintenance.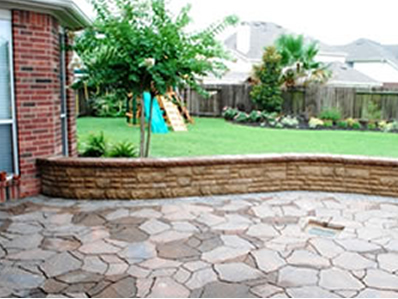 So, it is critical that the paver or wall installation contractor you plan to hire really know what they're doing and can guarantee high quality work. In order to find out if you're getting your money's worth, ask your potential hardscape contractors these questions.
How you plan to go about the paver and wall installation process? I need to compare it with those of other contractors.
Even if you don't have any idea about the proper installation process, asking this question will signal to your contractor that you are trying to learn and that you are considering other companies for the job.
This is also an important question because other contractors do skip some steps in the process, such as ground stabilization and the use of polymeric sand.
Does your company have a certified retaining wall installer or paver installer?
Certified professionals of a particular industry are always a good choice because you can be sure that they are committed to quality installation standards. You also minimize your risks of getting substandard quality work on your paver or wall installation project.
How long has your company been doing hardscapes? Are you fully insured?
Knowing that your prospective contractor has more than adequate experience to do the project will add to your peace of mind. Before signing any contract, be sure to ask for work references from their previous clients. It is also important that all crewmembers are fully insured in case they are injured while doing work within your property.
What base materials do you use, and how do you do the compaction process?
If contractors give different answers, have them explain to you the difference between the materials being used, including the advantages and disadvantages of the various base materials.
Find out also if they do the compaction of the base layer for every 2-3" base that is being installed. For patios and walkways, experts recommend at least 6" of compacted base material.
How do you plan to do the drainage system on the patio or retaining wall?
Per quality standards, ask if they allot at least 1% slope from house structures. If you're having raised patios or retaining walls, ask if an internal drainage is necessary to reduce or lessen static water pressure behind the wall.
What type of jointing sand can you recommend for this hardscape project?
Many contractors use either acrylic sand or angular jointing sand. Be sure to ask about the advantages and disadvantages of both materials, and what is more suitable for your own hardscape project.
One benefit of acrylic sand is that you won't likely see weeds and ant hills developing on the pavers.
Do you offer warranty for your installations?
Properly installed pavers and retaining walls last for years. However, a good hardscape contractor will still offer warranty on installations up to a certain period.
Got additional questions on any landscaping project? Drop us a line.
For further readings, take a look at "Questions to Ask Your Landscaper before You Sign Anything"